Licensed Font Case
2018-01-15
Customizing tags for pets start with choosing the font!
Product Description
Product Name: Fulgor Jewel customized tags
Fonts used: DF XingShu font / DF FangYuan / DF HuaZong font / DF ScriptEr font / DF BiaoKai font

The customized tags by Fulgor Jewel are made with stainless steel. Customers can choose their image or characters of choice to be engraved to create a unique name tag for pets. Customers can leave the name of the pet or the owner, contact method, or choose to engrave a QR code that links to related Facebook pages, blogs, or websites when scanned with a smartphone.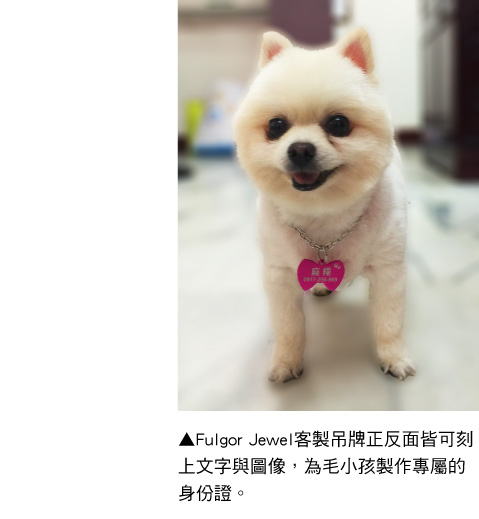 Why Choose DynaFont
DynaFont provides a variety of different font designs ranging from basic, playful, and formal in style, allowing multiple options for customers looking to create unique tags to choose from according to their preferences. For instance, the strokes and curves of DynaFont Fang Yuan font give a lively sensation while also being clear and recognizable, a popular choice among pet owners!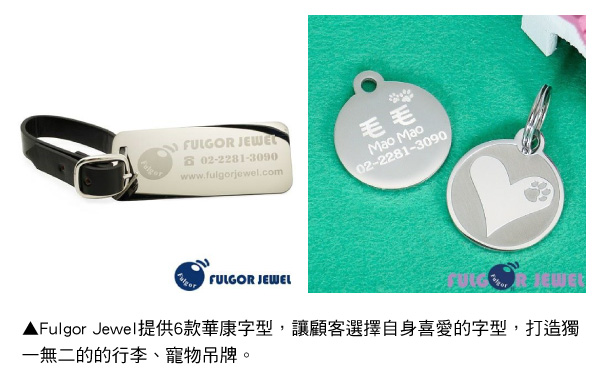 Company Introduction
---

FULGOR INTERNATION CO., LTD
Fulgor Jewel belongs to the Fulgor Design group and has 13 years of experience in manufacturing and exporting metal accessories, such as metal photo frames, jewelry boxes, fashion jewelry, silver accessories, and pet tags. Produced and inspected by Fulgor Jewel's own factory, the company provides high-quality designs and material recommendations that range in variety.
 
Address:
1F., No. 28, Xincheng 8th Rd., Wugu Dist., New Taipei City 248, Taiwan (R.O.C.)
Telephone: +886-2-2281-3090
Website: fulgorjewel.com/